WHY TDHCD?
Explore the TDHCD difference…
Our Mission
TDHCD's mission is to create valued relationships with our clients, employees, business partners and community, using our professional knowledge, experience, and creativity, to help us all achieve our goals.

Trust
We seek to earn long-term loyalty from our clients and colleagues by demonstrating reliability and teamwork as we develop a deep understanding of each client's businesses and goals.
Quality
We are committed to excellence in the execution of our services, and we will do so in an efficient manner.
Integrity
We will maintain an environment where professional ethics governs the actions and decisions of everyone within our firm.
SERVICE
Our entire team, from top to bottom, exists to serve you. Whether it's your business or your personal accounting, we are here to be more than just your accountants. We're here to be your partners, your trusted ally and your friends, because at the end of the day our job is about so much more than just the numbers.

CONFIDENCE
When you choose your CPA firm, you're choosing confidence. Confidence that the team you select will help you cut through the daunting confusion of tax laws. Confidence that the team you choose will educate you and help you make the best choices for your business. Confidence that they will stand by your side every step of the way. Confidence that you'll never pay more tax than the law requires. Confidence that your team will help you plan for your future.

PERSONAL & PROFESSIONAL
Your family. Whether that means the people you live with at home, your grandchildren, or the family you spend your day with from 9 to 5 at work, protecting them is our focus. We understand that they can all intertwine, and that your business and personal accounting needs sometimes overlap. That's why we work hard to always look at your accounting needs from all sides to ensure that the decisions we are making produce the best possible outcomes.


ATTENTIVENESS
At TDHCD, we understand the challenges you, your family and your business are facing. Our vision for our clients is that they would always know we are standing beside them when it comes to their accounting needs – that they are never alone. Let us help you review your accounting needs, keeping the big picture in mind and bringing calm to the experience. With over 25 years of experience as a firm, and a staff with attentive service and technical expertise, we're here to be the team that takes you from "Them and I" to "Us".

VISION
If you had a time machine, you could jump into the future and envision where you'll be down the road. Unfortunately, we don't have time machines, so you need another way to address the future and all it holds. Think of TDHCD as your time machine, and let us help you gain a vision of what the future holds and how you can best plan for it and protect your assets both today, and tomorrow. From tax planning to protecting your estate, let us help you make the best decisions now to impact your future.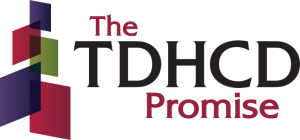 We promise to serve you, our client, and provide you with confidence that each day your personal and professional accounting needs are being met in a manner that addresses your current goals and envisions your future.
WANT TO LEARN MORE ABOUT THE TDHCD DIFFERENCE?